Essendon Physio group is committed to helping people move well and feel amazing.
That's why we have a diverse way of helping you by offering in rooms and online PHYSIOTHERAPY.
VIRTUAL PHYSIOTHERAPY
Did you know that we provide online physiotherapy and exercise rehabilitation services? Can't leave the house, we've got you covered.
SPECIALIST VESTIBULAR SERVICES
Our Vestibular Services have expanded - Same day appointment now available.
MEET OUR TEAM
Read about how each of clinical team can help you best.
READ MORE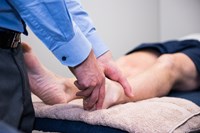 Thank you for giving us the opportunity to be a part of your health journey. We value your trust in us and in return our promises to you are:
You will be always be welcomed warmly in our practice

You will be provided with the highest quality clinical care from our clinical team and made to feel special by our client experience team

You will be assessed thoroughly and findings and plans will be explained clearly

We will provide you with a progressive management plan aimed at achieving the goals that are important to you

We will make you feel comfortable and deliver a service above expectation