---
Headaches are one of the most common presenting health conditions in Australia today and can have a major impact on our ability to perform our usual everyday activity.
Common causes of headaches
There are many causes of headaches including those that originate from the body's musculoskeletal system. These include disorders of the neck and temporomandibular joint (jaw). Oral disorders, sinus infection and emotional stress are also common causes of headaches.
Headaches originating from the cervical spine and neck muscles are known as cervicogenic headaches.
People who experience cervicogenic headaches also commonly report having a sore or tight neck. Most often symptoms will originate in the neck and spread to the back of the head, temple and forehead regions as well behind the eyes. This often occurs because the nerves at the back of the neck interact with the nerves in the head and face.
An injury or disorder of the bony structures or soft tissues of the neck can refer pain into the head region and a headache may result.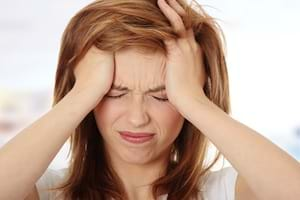 If you experience one or more of the following symptoms it may suggest that your neck is the cause of your headache:
Neck pain and headache simultaneously.
Headaches with prolonged neck position/posture or neck movement.
Headaches which feel worse on one side of the head.
Headaches on both sides of the head simultaneously.
Headaches which are either aggravated or relieved when pressure is applied to the neck region.
When to consult your physiotherapist:
Immediately if you experience a headache and neck pain simultaneously.
When your headache persists for more than two days.
When you first experience neck pain. This may prevent a cervicogenic headache from occurring.
A thorough examination by your physiotherapist will be able to determine whether a neck disorder is the cause of your headache. A physiotherapist may use a variety of treatment techniques and exercises to address your headache or neck disorder. Call our office on 9351 0677 or book an appointment online.
---